We Exceed Expectations...
At Knightsedge Nigeria, we provide subsea bolt tensioning to clients in Nigeria that seeks to maintain the integrity of their bolted joints. As a result, we designed our bolting solutions to exceed clients' expectations. Bolt tensioning allows the simultaneous tightening of multiple bolts. We connect the tensioners in sequence via a high-pressure hose assembly to a single pump unit that ensures the tensioners develop the exact load and provides a uniform clamping force across the joint to achieve a secure sealed connection. Our bolt tensioning services are executed with all due care and diligence, in strict compliance with clients' specifications and best practices. We deploy a motivated workforce and an impressive array of bolt tensioning machines to provide you the best service you could get anywhere in the country.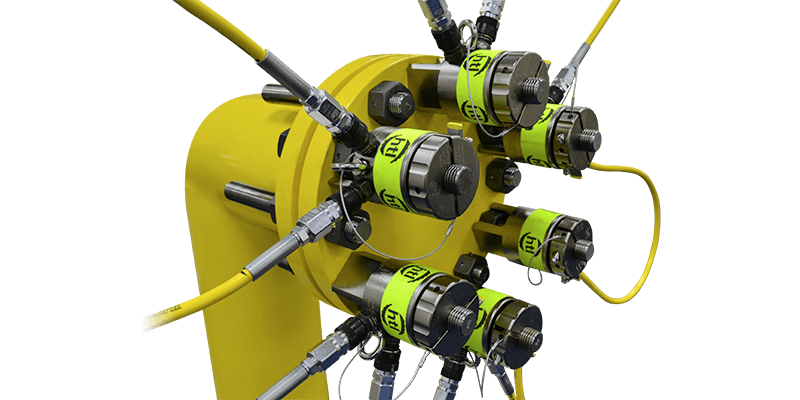 Subsea Bolt Tensioners in Nigeria
Subsea Tensioners deliver the most cost and time-effective solution to the subsea industry. Our subsea bolt tensioners come with a Quick Release Nut that improves divers safety and productivity and, in addition, minimizes divers' fatigue.
Our Hire Torque's (HTL) subsea tensioners are also designed to fit BS1560/ANSI B16.5/API flanges. The other benefits include:
Misalignment compensation

Quick, simple connection

Visible piston stroke indication

Simple diver operation

Low friction seals

Anti-slip cylinder surface for improved handling

Anti-corrosion coating
Getting Started With Subsea Bolting Tensioning in Nigeria
We're the leading provider of subsea bolt tensioners and tensioning services in Lagos and Nigeria. We are the exclusive sales and service partner to Hire Torque Limited, and we have many years of experience representing them in Nigeria. Kindly get in touch with us to get started 👇
Please Feel Free to Call Us
Our customer support staff are always available to answer all your questions.