The Leader in Joint Integrity...
At Knightsedge Nigeria, we conduct flange facing services on flange surfaces to help clients protect their critical asset installations, avoid leakages and corrosion. Our services ensure old flanges continue to maintain joint integrity between them. Flanges could get damaged due to turbulent flow or during installations. We cut the flanges to give them a spiral grooved finish. The finishing forces gases and liquids to travel in a long spiral path rather than across the flange face and this helps prevent leakages. Our flange facing services are executed with all due care and diligence, in strict compliance with clients' specifications and best practices.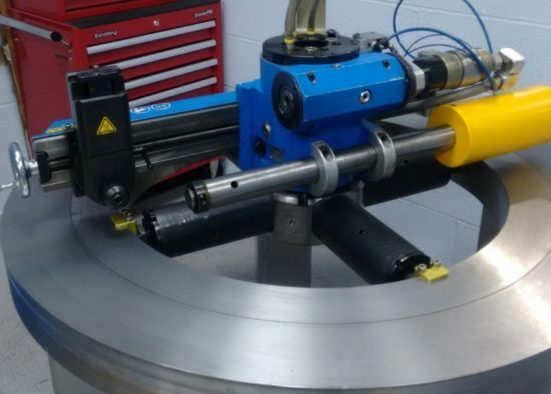 FLANGE FACING APPLICATIONS IN NIGERIA?
Flange facing is one of the most important repair jobs during plant shutdowns or maintenance. And we provide the following flange facing services in Nigeria.
 Re-facing of main inlet steam flanges

Repairing heat exchanger nozzle flange

 For sealing and weld prep, facing and beveling of the pipe are required

Repairing flat face raised face and phonographic finish flanges 

Repairing piston rod mating flanges

Boiler feed pump flanges

Re-machining the gasket seal on tube sheets

Cutting new grooves or fixing ring grooves

Vessel and plate weld prep

Re-facing ship hatch sealing surfaces

Re-machining bearing surface of rotary cranes 

Resurfacing large pump base housings 

Re-facing valve flanges and repairing heat exchangers

Flange milling wind tower section

Ship thruster mount facing, drilling, and milling.
Our Flange Facing Machines Can Exceed Your Expectations
We're the leading provider of Flange Facing Services in Lagos and Nigeria. Our Flange Facing Services helps organizations to avoid leakages, corrosion and maintain joint integrity. We have over 20 years of experience delighting clients. Kindly get in touch with us 👇
Please Feel Free to Call Us
Our customer support staff are always available to answer all your questions.